<Back
China Deployed the World First "Three Layers" Interoperability V2X Application Demonstration
Source:CAICV
Release Date: 24 May 2019

The "Three Layers" Interoperability V2X Application Demonstration (hereafter referred to as "V2X Three-Layers Demonstration") was deployed from November 4th-8th, 2018, in Shanghai, China. The V2X Three-Layers Demonstration realizes the world first cross-communication modules, cross-terminals and cross-vehicles LTE-V2X Interoperability.
Over 20 companies particiated in this demonstration, including 11 OEMs e.g. BAIC Group, CHANGAN, SAIC MOTOR, General Motors(GM), Ford, BMW Group ,GEELY, Audi China, Great Wall Motors, DFM and BJEV. 8 terminal vendors e.g. Datang (CATT), HUAWEI, NEBULA LINK, Neusoft Reach, Genvict Technologies, SAVARI, Huali iSmartWays and China Transinfo and 3 communication module providers e.g. Datang (CATT), HUAWEI,and Qualcomm.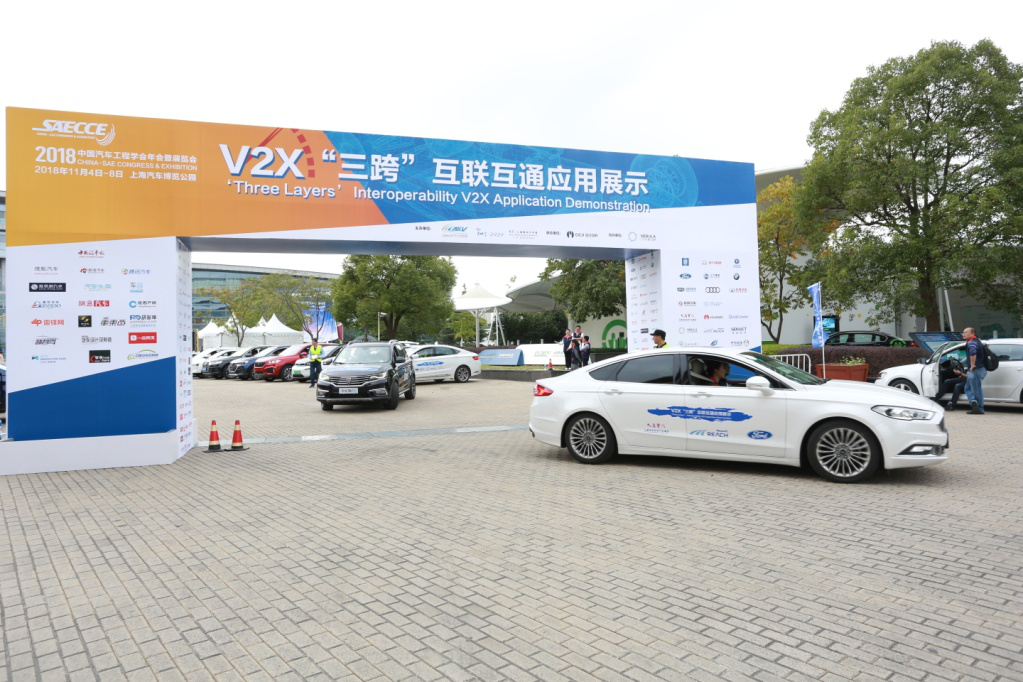 The V2X Three-Layers Demonstration adopts 3GPP R14 LTE-V2X PC5 direct communication technology on 5905-5925 MHz Frequency Band, and uses Chinese network layer and application layer standards for higher layer communication.
The demonstration selects nine typical V2V and V2I scenarios, including Speed Guidance, Intersection Collision Warning, Emergency Brake Warning, Forward Collision Warning, etc, showcasing the availability of LTE-V2X End-to-End connectivity.
The V2X Three-Layers Demonstration verified the end-to-end conformance of Chinese LTE-V2X protocol stack, which is benefit to accelerate the development of LTE-V2X industry, also push forward the large-scale LTE-V2X deployment in China. In addition, this demonstration promote the collaboration of the whole industry chain, and help to construct the whole industrial ecosystem.
This demonstration indicates China's LTE-V2X research accumulations and developing advantages. Over 800 experts from more than 10 countries experienced the demonstration, including experts from FISITA and 5GAA.
This demonstration was jointly organized by the China Industry Innovation Alliance for Intelligent and Connected Vehicles (CAICV), IMT-2020 (5G) Promotion Group C-V2X Working Group and Shanghai International Automobile City. CAICT takes the lead of Lab interoperability testing. China Intelligent and Connected Vehicles Innovation Center(CICV) and Nebula Link provide technical support and organizing support to the demonstration.
Contact:Karenlin
Company(Source): CAICV
Tel:010-57705901
Email: linxi@china-icv.cn